Creating a GIS geodatabase for waste management: A case study of University of Lagos
E. O. Makinde

Laboratory for Geospatial Research, Department of Surveying and Geoinformatics, University of Lagos, Lagos, Nigeria

T. M. Akinola

Laboratory for Geospatial Research, Department of Surveying and Geoinformatics, University of Lagos

T. J. Ogunleye

Laboratory for Geospatial Research, Department of Surveying and Geoinformatics, University of Lagos
Keywords:
Waste Management, GIS, MySQL, Geodatabase
Abstract
Solid waste is a major environmental problem in many developing cities of the world including Lagos, Nigeria. University of Lagos located in Lagos State is not an exception. Preliminary findings indicate that the University of Lagos, Akoka campus generates about 32.2 tons of waste daily and has an existing method of management which has its challenges of frequency of collection, sorting, and recycling. The current management plan can be made to be automated which will be more effective, efficient, and environmentally sustainable. Incorporating the use of Geographic Information System (GIS) in the field of Solid Waste Management (SWM), is a major way of achieving this. In this study, data were acquired using two methods: the first was field based, which included direct field observations using GPS, questionnaires and interviews; and the second was image based, which is Google Earth satellite image data of the University of Lagos. A geo-database was created, and several spatial analyses were performed using ArcGIS 10.6 and MySQL software. To ensure a workable model, the model created was tested to assess the issues arising in the management of wastes in the University. In conclusion, the model created serves as a useful alternative method in managing waste in the University.
References
Adeniran, A. E., Nubi, A. T., & Adelopo, A. O. (2017). Solid waste generation and characterization in the University of Lagos for a sustainable waste management. Waste Management, 67, 3–10. https://doi.org/10.1016/j.wasman.2017.05.002
Afon, A.O. (2007). Informal sector initiative in the primary sub – system of urban solid waste management in Lagos, Nigeria. Habitat International 31, 193 – 204.
Aziz, R. and L. Khodakarami (2013). Application of GIS models in site selection of waste disposal in an urban area. WIT Transactions on State-of-the-art in Science and Engineering 77: 27-35.
Bai, R. and Sutanto, M. 2002. The practice and challenges of solid waste management in Singapore. Waste Management, 22(5), 557-567.
Berrocal, L.C. (2012). Suitability Analysis with ArcGIS (Restriction Model). Tutorial on how to use ArcGIS to create a suitability layer.
Berry, J. W. (1974). Psychological aspects of cultural pluralism: unity and identity reconsidered. Topics in culture learning, 2, 17-22.
Francis, T. (2019). GIS in Sustainable Urban Planning and Management. USA, CRC Press. doi.org/10.1201/9781315146638
Onuminya, T. O. and Nze, E. C. (2017). An Appraisal of Waste Management in Lagos Metropolis: A Case Study of Lagos State Waste Management Authority (LAWMA). Nig. J. Pure & Appl. Sci. 30(3). http://dx.doi.org/10.19240/njpas.2017.C07
Oladiran, J. O. (2010). Optimization of Waste Management Plan for Waste Reduction on Construction Projects in Nigeria. Proceedings: International conference on innovation in Architecture, Engineering and construction, June 23-25, Antalya, Turkey.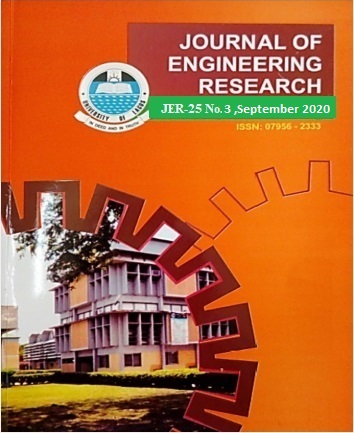 How to Cite
Makinde, E. O., Akinola, T. M., & Ogunleye, T. J. (2020). Creating a GIS geodatabase for waste management: A case study of University of Lagos. Journal of Engineering Research, 25(3), 62-72. Retrieved from http://jer.unilag.edu.ng/article/view/1108