Performance Evaluation of Selected Cassava Roots Harvesters
I.A. Ola

Department of Agriculture and Bioresources Engineering, Federal University of Agriculture Abeokuta, Nigeria

A.F. Adisa

Department of Agriculture and Bioresources Engineering, Federal University of Agriculture Abeokuta, Nigeria

I.L. Ubaka-Ojogwu

Department of Agriculture and Bioresources Engineering, Federal University of Agriculture Abeokuta, Nigeria

J.O. Solomon

Department of Agriculture and Bioresources Engineering, Federal University of Agriculture Abeokuta, Nigeria

J.A. Ojediran

Department of Agriculture and Bioresources Engineering, Federal University of Agriculture Abeokuta, Nigeria

E.S.A. Ajisegiri

Department of Agriculture and Bioresources Engineering, Federal University of Agriculture Abeokuta, Nigeria
Keywords:
cassava roots, harvester, uprooting, energy expended, refinement, sequential development
Abstract
The mechanization of cassava uprooting process on large expanse of cassava plantation is an important and urgent need to resolve the present plights of peasant farmers in tropics. These farmers employ the manual uprooting methods of the roots of this crop and it is quite an extremely difficult task most especially during the dry season when the soil crust is very hard. Most peasant farmers who employ this method and are at their old age are subjected
to acute back pain due to accumulated stress on the back muscle over their productive years. The advanced methods of uprooting which are attachments to farm tractor are beyond the reach of this poor farmers. These low scale farmers are the major producers of the crop and they need a better, gender friendly uprooting device that would reduce the accumulation of a stressed life emanating in the uprooting process. A strategic approach of a three-year plan of developing a better method of uprooting the cassava roots were embarked upon sequentially by three different members of this research group to advance the development of the uprooting device. In the plan that was executed in this order machine design, refinements, modifications, evaluations and machine final design and adjustment were embarked upon over these periods. In the end a feasible design from faults of preceding year design were corrected and tested to obtain the best uprooting method. Out of the three investigated designs of hydraulic arm uprooting device, pillar arm uprooting device and lever hoist uprooting device, the later was found favorable and most effective for the uprooting of cassava roots. This assessment was based on the energy input of 24.03 kJ
and output performance 19.19 kJ which was lower and of better performance than the other two methods. With a little further modification, this unit, the lever hoist uprooting device would be a handy tool for cassava harvest for peasant farmers all over the globe at a very affordable price not beyond the income of these farmers. This unit would also remove all forms of stress attributed to the uprooting process.
References
Adisa, A.F, Ola, I.A., Ajisegiri, E.S.A., Adewumi, B.A., Ismaila, S.O., Adekunle, N.O., Adigbo, S.O. (2017). An overview of development of a rice processing plant for rural use. Farm Machinery and Processes Management in Sustainable Agriculture Lublin, Poland 22-24 November 2017 IX International Scientific Symposium, pp 11- 16
Adisa, A.F. (2012). Agricultural machinery development procedure. Lambert Academic publishing, Berlin.
Agbetoye, I.A.S. (1999). Development in Cassava Harvesting Mechanisation. West Indian Journal of Engineering, Vol. 22 No.1, pp 11-17.
Alejandro, B.C. 1989. Cost of harvesting cassava with a plough. The Philippine Agriculturist, Vol. 21, pp227-280.
Chan, S.K., Khelikuzaman, M.H., Tan, S.L, Geh, S.L. and Lo, N.P. (1983). Cassava in Peninsular Malaysia with particular reference to production techniques (Special Report). MARDI, Kuala Lumpur. 97p.
Crossley, P. (1983). Small farm mechanization in developing countries. John Wiley and Sons Publisher FAO 2004 A cassava industrial revolution in Nigeria FAO corporate document repository, http://www.fao.org/docrep date accessed 22/05/2017
IITA (2004). Nigeria's Cassava Industry: Statistical Handbook Johnson.
Makanjuola, G.A and Moldenhawer, A. (1984). Mechanised Cassava production investigation in Nigeria. Paper presented at the meeting of the American Society of Agricultural Engineers, University of Tennesse, Knoxville, June 24-27.
Odighoh, E.U. and Ahmed, S.F. (1982). A cassava harvester: design Analyses and prototype development, agricultural mechanization in Asia, Africa and Latin America, vol.14, no. 4, Autumn, pp 40-48.
Ola, I.A. (2014). Development of precision mechatronic metering mechanism for planting cassava stem. A PhD thesis submitted to the Department of Agriculture and Bio-resources Engineering, Federal University of Agriculture Abeokuta, Nigeria.
Oriola, K.O. and Raji, A.O. (2013). Trends at Mechanizing cassava Postharvest processing Operations. International Journal of Engineering and Technology Volume 3 No.9, September, 2013, ISBN 2049-3444 IJET Publications UK.
Sar, T. Van Der. (1979). Hand-operated cassava Harvesters agricultural mechanization in Asia, Africa and Latin America. Vol.10, No1, Winter, pp 64-68.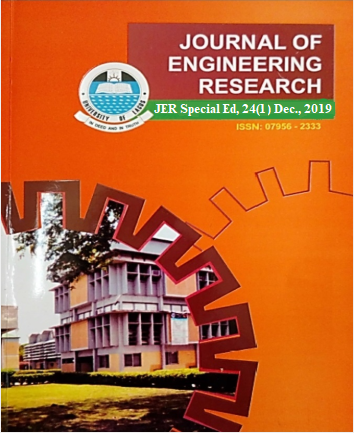 How to Cite
Ola, I., Adisa, A., Ubaka-Ojogwu, I., Solomon, J., Ojediran, J., & Ajisegiri, E. (2020). Performance Evaluation of Selected Cassava Roots Harvesters. Journal of Engineering Research, 24(1), 40-52. Retrieved from http://jer.unilag.edu.ng/article/view/587